Hassell Park
Hassell / Hassall Park is located at the corner of Mawson Street and Mona Vale Road in St Ives.
It was originally declared Hassall Park in 1899, however, common usage by Council and others now refers to it as Hassell Park.
Google Maps | Clubhouse Phone : 9144 6930
There are three newly renovated cricket nets on the Mona Vale Road side, whilst the opposite side has two synthetic wickets and a clubhouse. The centre synthetic wicket is uncovered year round.
The Clubhouse is the home of St Ives Rugby Club (50% ownership), St Ives Junior Cricket Club (25% ownership) and St Ives Cricket Club (25%). With functions and bar area primarily utilised by the St Ives Rugby Club and St Ives Cricket Club.
Here is a clipping courtesy of Richard Whitaker;
The Sydney Morning Herald Friday 29th May 1896
St Ives C C defeated the pick of Turrumurra at St Ives Oval on Queen's birthday by three wickets and 12 runs. Scores – 45 and 6 (Courtney 16): St. Ives 25 and seven for 8 (Robinson 16, Hodson 9, Porter 6). Jones and Hodson bowled best for the winners, and Courtney, Rhodes and Gregory for the visitors.
Comments: This could indicate that cricket was played on Hassall Park before it was formally declared a park and named. This did not take place until 1899 – some three years after the match referred to above.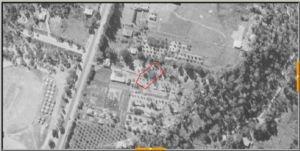 Photo : Aerial photo St. Ives 1943 – what is now 4 Gowrie Close outlined in red. What appear to be tents in Hassell Park – possibly an Army camp.